The Perfect Transportation For Teen Parties To and From Your Party Destination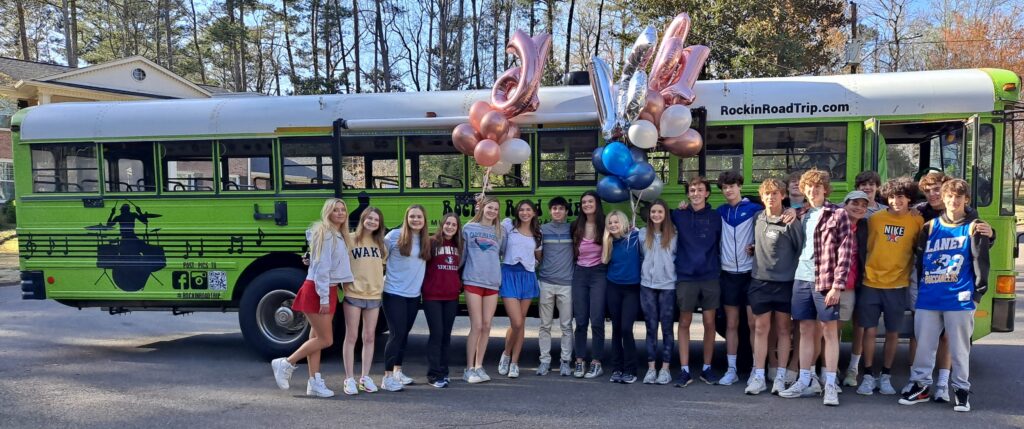 Are you a parent looking for a safe and exciting way for your teenagers, aged 10 to 18, to travel to and from games, events, and hangouts? Look no further than our Rockin Teens Shuttle – a dedicated service designed to provide a hassle-free and entertaining transportation solution. Priced at just $1000, this exclusive service ensures that teenagers have a fantastic time getting to their destinations and back again.
What We Offer:
The Rockin Teens Shuttle is tailored for teenagers, offering transportation to and from a variety of events. During the ride, teenagers can enjoy their favorite music, with parents having the option to curate a playlist, setting the mood for the journey with age-appropriate music. While we provide supervision on the bus to ensure safety and a good time, it's important to note that supervision at the destination is still the responsibility of parents or guardians that accompany their group.
Parents have the option to join the ride, providing both peace of mind and an opportunity to share in the excitement. The Rockin Teens Shuttle even adds a touch of fun with a red light dance-off competition to keep the atmosphere lively. You'll have up to 3 hours for your trip, ensuring that your teenagers have ample time to enjoy the event and travel comfortably.
Booking Information:
The Rockin Teens Shuttle typically operates in the evenings, making it a perfect solution for late-night events. Whether it's a sports game, a concert, or a casual hangout, our shuttle service offers a secure and fun way for your teenagers to get to their destination and back home safely. To reserve your spot, fill out the form below.
Signup | Rockin Teen Shuttle