The Ultimate Brewery Tour Experience in Atlanta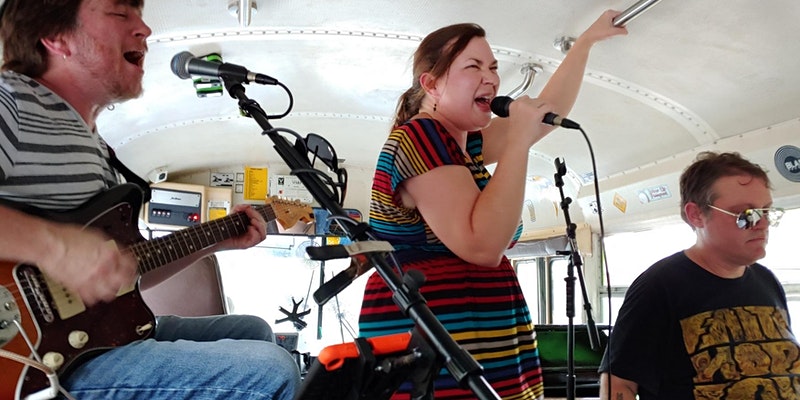 If you and your party want a unique experience of Atlanta's brewery scene, look no further than Rockin Road Trip's brewery tour. Our party bus rental service offers a unique experience combining a live band or Karaokee with a customizable brewery tour. Our brewery tour will surely be a hit for your event or a night out with your friends!
Flexible Itineraries for Customizable Brewery Tours
One of the great things about our brewery tour is its flexibility. You can choose between pre-set tours to some of Atlanta's best breweries or create your own route. Our experienced drivers are familiar with the city's brewery scene and can help you make the perfect itinerary for your group.
A standard brewery tour with Rockin Road Trip is three hours long, giving you plenty of time to visit multiple breweries and enjoy the live entertainment on board.
Atlanta's Best Breweries to Visit on a Rockin Road Trip
These are some of the destinations we might recommend for your brewery tour:
SweetWater Brewing Company: This Atlanta classic is also one of the largest craft breweries in the Southeast. Known for its award-winning 420 Extra Pale Ale, SweetWater offers various beers sure to please your palate.
Monday Night Brewing: Located in West Midtown, Monday Night Brewing is known for its unique and flavorful beers. From the hoppy Eye Patch Ale to the rich and decadent Bourbon Barrel Drafty Kilt, there's something for everyone at Monday Night.
Scofflaw Brewing Company: This brewery is well known for its strong hoppy flavorful beers and laid-back atmosphere. With a rotating selection of IPAs, stouts, and sours, Scofflaw is a must-visit for any beer lover.
Atlanta Brewing Company: You may recall its former name "Red Brick Brewing Company." This brewery has been a staple of Atlanta's beer scene since 1993. Its flagship beer, Laughing Skull Amber Ale, is a favorite among locals.
New Realm Brewing: This trendy brewery is located on the Atlanta BeltLine and offers a selection of IPAs, stouts, and lagers. Its rooftop bar also offers stunning views of the city skyline.
Three Taverns Imaginarium: This Decatur brewery offers a rotating selection of small-batch beers, experimental brews, and barrel-aged sours. Its cozy taproom is a great place to relax with friends.
Torched Hop Brewing Company: These guys have two locations in Atlanta making it super easy to include on your tour. They offer a variety of IPAs, stouts, and sour beers. Its Decatur location also has a full kitchen serving up delicious pub fare.
Variant Brewing Company: This brewery is based out of Roswell GA. As the name implies, Variant offers multiple kinds of IPAs, sours, and barrel-aged stouts. There is also plenty of room!
Second Self Beer Company: Let's go to midtown! Second Self Beer Company offers a generous variety of beers. Its taproom also features a selection of board games for guests to enjoy.
Gate City Brewing Company: Here is another excellent brewery in Roswell GA. Just like other breweries on our list, they offer many kinds of IPAs, stouts, and Belgian-style ales. Its outdoor beer garden is great for relaxing with friends on a sunny day.
We can also include stops at other local breweries like Wild Heaven Beer and Orpheus Brewing.
Schedule a Brewery Tour For all Kinds of Events
Brewery tours are perfect for all kinds of events including bachelor or bachelorette parties, birthdays, corporate events, and more!  We can accommodate groups of 10-34 people, and our BYOB policy makes us a cost-effective option for many of your partygoers.
When you book a party bus rental with Rockin Road Trip, you can expect exceptional service from start to finish. We will make you feel safe and welcome.  We also thoroughly clean and maintain our bus before every event.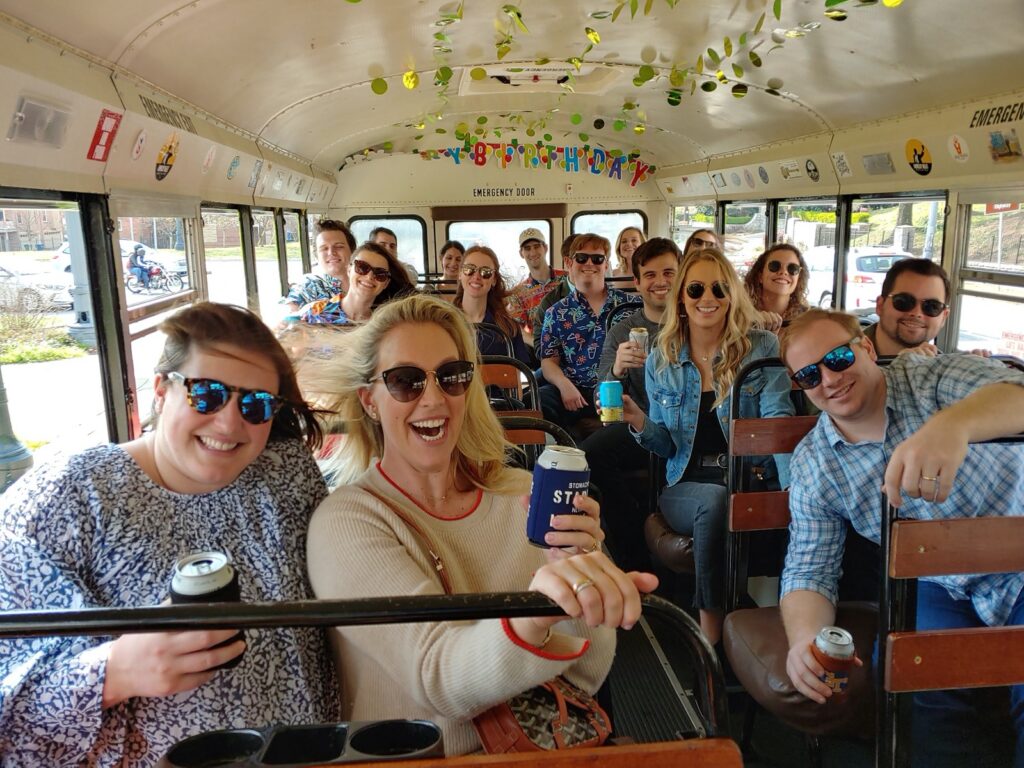 Give Us A Call To Schedule Your Brewery Tour
Contact us today if you're interested in booking a brewery tour or party bus rental with Rockin Road Trip. Our friendly and knowledgeable road trippers can help you plan the perfect event and answer any questions.